A unique digital city model for each city
New opportunities for local businesses
Smart City Monitor supports various cost effective applications
Services for local authorities and residents of the city
New opportunities for local businesses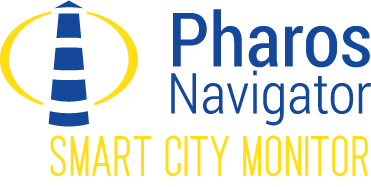 The Smart City Monitor solution opens the variety of innovative business opportunities for city service providers. It includes
– Direct presentation of actual information about business performance and events on city dashboards and map for citizens, visitors, tourists and other customers who are interested in real-time access to services
– Increased possibilities to promote own business by online search and not only service tags, descriptions, locations but various real time events and operational results 
– Additional channels to increase sales by providing actual operational status online along with real time key performance data for customers 
– Revealing evidence information about quality of services confirmed by the city administration and its agencies and by customer ranking offering competitive advantage
– Keeping real time contact with customers interested in knowing about developments and performance results
– Improving feedback options by customers fostering continuous improvements and adaptation to changing demand
– Contributing to Quality of Life in the community, its policies, interests and projects 
What information can be presented by organizations on Smart City map and dashboards?
The performance information presented by service providers on the city maps and various mobile apps is customized and can include rich illustrations, data, texts, pictures and video streams e.g. by video cameras. 
It may include any detail required by a service provider or by local community policies and presenting actual service quantitative measures and content.
Providing quantitative real time data to be presented at Smart City Monitor
The Smart City Monitor has multiple options for receiving and presenting necessary real time information from businesses and enterprises as follows:
Connecting to local sensors and IoT
Setting automatic data import procedures for selected data from enterprise performance management systems and databases
Connecting to existing automated systems e.g. SCADA (energy, water, waste, environment, traffic, etc).
The data content and its presentation are defined by the agreements between City administrations and business service providers. The technical implementation is realized by linking of Smart City Monitor to local enterprise information sources and presentation options of relevant online information by reports, widgets, search, mobile apps and other web tools including maps.
The use of Smart Enterprise Monitor as provider of such data fosters rich real time custom information that is easy to implement. The example of Smart Enterprise is presented in Smart Enterprise section of the portal. 
New business models 
The novel digital transformation options offer municipalities and local service providers new business models that may include for example. 
Managing own service operational status to be revealed and promoted online in real time 
Presenting particular performance and quality information online
Publishing events about performance and products and services for city subscribers 
Contributing to city projects and developments relevant public acknowledgements and funding
Having direct links to own web sites and information services.
Smart City Monitor supports variety of cost-effective applications and use cases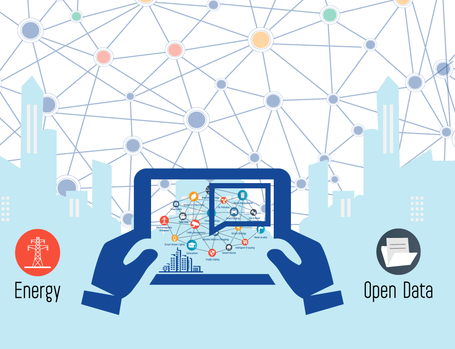 Here are some examples:
Smart City or Smart District project
Smart integrated managment and maintenance of Shopping Centers and Campuses
Smart Governance enabled by digital transformation and sustainability monitoring
Monitoring and public transparency of environmental, educational and attendance indicators in schools
Enabling public transparency of local governance by online presentation of custom key performance indicators
Enabling public transparency of environmental indicators of quality of life
Public transparency of environmental indicators of quality of life
Implementation of citizen transparency program
Online monitoring of city processes by a city operational control centre
City certification by ISO 37xxx standards and its public transparency
Management and implementation of Circular Economy and its public transparency in metropolitan areas
Holistic smart management of waste collection and processing in metropolitan or urban area accordingly to international standards
Holistic smart management of water in metropolitan or urban area accordingly to international standards
Holistic smart management of wastewater in metropolitan or urban area
Holistic smart management of fleet of municipal vehicles and control of road tax collection, inbound and outbound traffic statistics
Holistic management and monitoring of public assets and infrastructure in a smart city
Automatic collection of metering data from large number of energy, water, waste and other data sources in public assets for accounting and monitoring
Linking multiple sensors and IoT and automated systems to operational control and command centre
Intelligent management of parks and gardens
The projects implementation result in effective learning of new powerful smart applications for administration and management, strong accumulated cost-savings, new skills and job opportunities.
Unique digital urban model for each city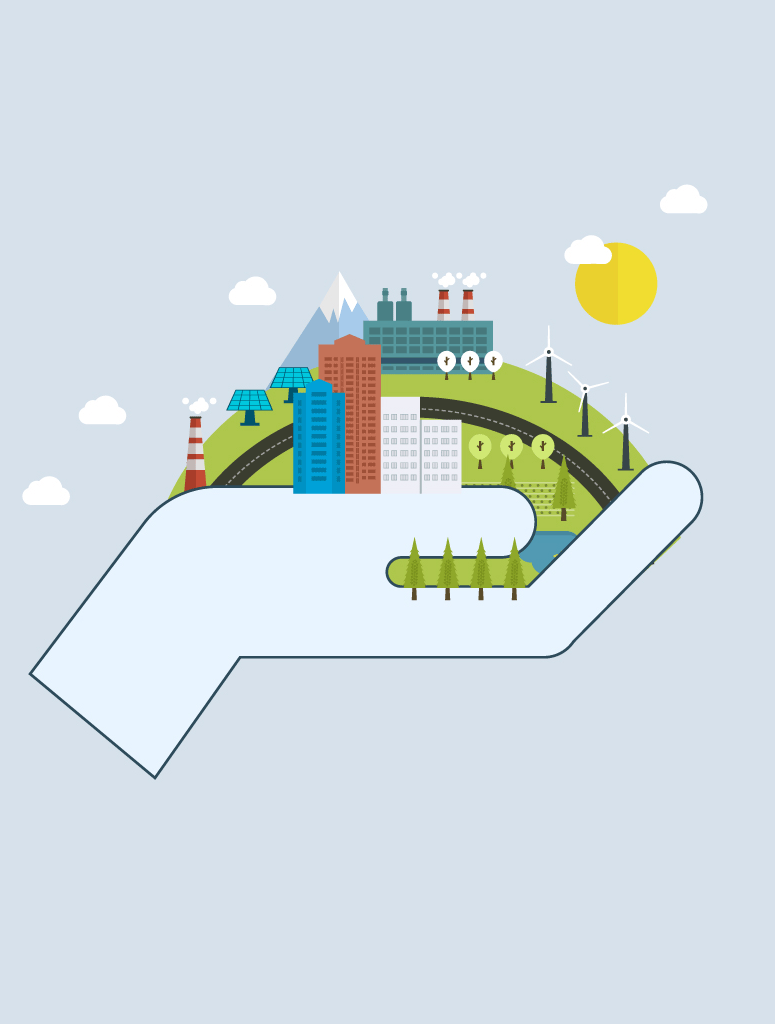 Smart Sustainable Urban Model of the real city as complex cyber-physical system
The cool thing you can do with Smart City Monitor running is that it fosters digital transformation of the common cities into the Smart Cities. The Smart Sustainable City model is a virtual copy of your real cyber-physical city and it runs on the Smart City server having connections to all its data sources which provide real time data about ongoing civic processes. The computer model calculates and processes multiple data streams in real time and then presents human friendly information to all citizens, tourists, visitors and businesses online improving Quality of Life, Economic growth, city image and its budget. The special applications for the city administration and utility service providers foster sustainable and effective management or urban processes.
While the practical implementation of the Smart Sustainable City model is relatively simple especially in middle size cities and towns, it requires innovative vision, knowledge of local urban processes and certain skills for using the Smart City Model builder. The company supports implementation of the Smart City projects and provides training workshops for the city specialists who develop the model for their city.
Smart City 37120 model provides Smart City Team and the city administration with quick and easy turn-key solution to launch integrated view of Smart City in compliance to international standard ISO 37120 "Sustainable development of communities — Indicators for city services and quality of life" for all theme-objects and core indicators. It helps getting necessary experience including preparing and connecting the Model to Open Data sources.
Further step by step advancing of the Smart City Model can be realized accordingly to the model development plan corresponding to overall city development plans and policies.
The Smart Sustainable City Model development can be implemented by the local Smart City Team by using interactive model builder runing on a common notebook without need for programming. It consists of defining the city structure and separate objects to be introduced into the model, describing its properties, adding indicators, its targets, constants, data sources including sensors and databases, etc.
The model allows gradual step-by-step upgrading to include all necessary city properties such as maps, geographic locations of the objects, mapping of the districts, integrating performance information of objects into overall performance of the districts and the whole city, considering development plans and targets, adding new open data sources, policies. When the model is available and runs on evidence data it can effectively support planning, simulation of major policy making decisions and evaluation of risks.
In particular the Smart Sustainable City Model implementation can foster and utilize
Implementation of various smart digital components in different geo-locations, districts (environment, energy, water, waste, transportation, etc) for data and measurements collection
Use of wide area networks, short range communication, access to smart technologies at lower cost, energy efficiency
Innovative components in Internet including optical networks, greener infrastructure, broadband equipment for both fixed and mobile networks, network resource management, radio technologies, scalability, cost efficiency, quality of service
New methods of Smart Governance and future business models with high citizens participation, improved urban culture, E-health, energy-friendly solutions, digital homes, enterprises, schools, transport, horizontal services for all city stakeholders.
New ways of presenting citizens and administration complex big data in the easy understandable user friendly way
Smart Intelligent Objects in the Smart City
Provided by sensors, Internet of Things (IoT) devices and micro servers the City objects both moving and stationary ones become Smart Objects. They are capable to receive, process and reveal quantitative information about their current state, operating conditions and realize necessary controls to optimize performance of both the object and the City over common Wi-Fi network.
Such Smart Object allows for example as follows:
Decreasing light intensity on streets during the night in case there is no traffic or movements in pedestrian areas to save energy,
Measuring and making water consumption adjustable to local area conditions defined centrally in the central city server
Monitoring real time passenger transportation such as busses, trains and regulating its intensity to address current density of passenger traffic in some routes and locations in near real time
Calculating and presenting expected time of next arrival of bus, train, etc based on actual data from the bus/train as Smart Object
Switching on cameras or making pictures in case there are moving objects above of normal speed of pedestrians i.e. running (normal speed range between 0-5 km/h)
Switching on additional cameras or make pictures in particular location of the city where there is expected or unexpected event takes place (fire, explosion, sewage problem, crowd gathering, extraterrestrial/magical …., etc)
Measuring combinations of environmental data, noise, high frequency emissions of various types, etc. providing integrated view for possible harmful impacts
Calculating and presenting current number of visitors in particular public places vs. its maximum capacity, e.g. parking slots, seats in restaurants, cinema, etc.
The variety of smart applications are based on Smart Sustainable City Server capacity to collect data from many sources, including Smart Objects, process it accordingly to rules defined by the City Administration in the Smart City Model, and undertake certain (allowed) actions automatically in response to internal dynamics of Change in City Life.
Service for Municipalities, Stakeholders and Citizens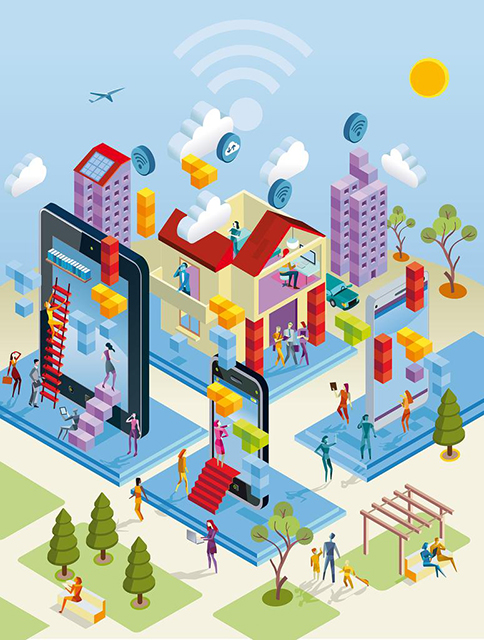 The Smart City Monitor provides the citizens, tourists, visitors, city administration, planners and local businesses with comprehensive information servcies and advanced digital transformation platform that helps through daily life, various activities, business services. This solution allows setting, continuously upgrading and running the complete model of the whole urban area which has various diverse civic objects, presents its current statuses, performance, locations on the maps, ongoing events and other information details supporting effective and sustainable urban life for everyone.
The Smart City model runs in real time on high performance server in the cloud or city operational center measuring processes by using large number of sensors and databases, calculating all necessary indicators, statuses of each object and their groups, compressing multiple complex processes into simple and useful human definitions. The resulting relevant information is presented for monitoring, benchmarking, analysis supporting citizens and administrations in their daily activities.
The initial Smart City model is implemented in full compliance to international standard ISO 37120:2014 "Sustainable development of communities — Indicators for city services and quality of life" for all theme-objects and core indicators. Its implementation steps include as follows:
Quick set up of the Smart City server (in cloud or in city house), Smart City client software on devices used by city administration and specialists for viewing on-going processes and indicators on-line
Learning how the urban model by ISO 37120 runs, what are the sample open data files, how to drill-down in analyzing the causes of events
Replacing sample open data spreadsheets with the local Open Data sets developed in the city
Running the Smart City model based on actual Open Data sets
The development of the unique Smart Sustainable City model starts by adding city objects on maps in different territorial locations, setting necessary sensors, identifying data sources, indicators, connectors to various business applications providing information about existing city services. The interactive model builder instruments allow Smart City Team of planners continuous upgrading of the Smart City Model by adding stationary and movable objects (busses, trains, cars). Any object may have own intelligence realized in internal micro servers, indicators, planned targets, data sources and sensors, actuators defining own sustainability and exchanging information with other objects for supporting and optimizing overall system sustainability.
The model development is made with interactive Model Builder instruments and does not require programming.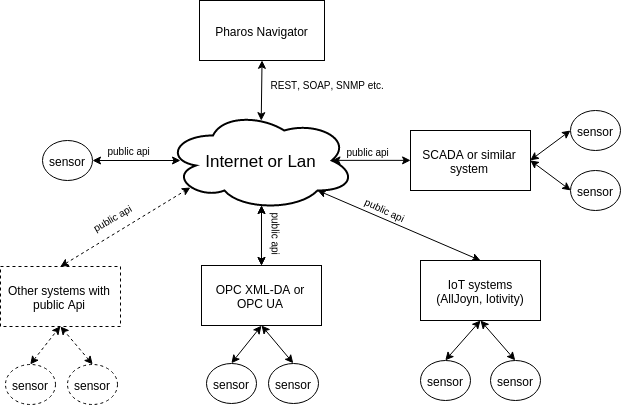 Smart City engine can communicate with Internet of Things (IoT) and automation control systems via common high level communication protocols using https as transport. Its underlying PharosN platform allows generic solutions avoiding specific proprietary requirements by the hardware of some manufacturers or protocols of controllers. As the result the platform meets the challenges of monitoring of both relatively small objects like machines, vehicles, buildings, offices, homes as well as large industrial systems.
The solution supports both direct communications with smart sensors and IoT as primary sources of data streams of measurements as well as with automation control systems having large number of various heterogeneous data sources.
For example, there are technical solutions able to read sensors by Rest API for temperature and other measurements. In this case, the platform can act as a single point of collection for all sensor readings, its processing and presentation to users for monitoring and visualization.
In case of industrial automation e.g. water, energy, waste, fire, operational statuses of equipment, etc. and relevant management systems, the installed sensors can be made by different manufacturers and support different protocols. In such systems the most commonly used automation solutions are the OPC engines or SCADA systems controlling large number of devices and processing relevant data.
The PharosN platform can communicate with such systems and IoT through common open access protocols collecting (get) or receiving (push) big data in a json file. If sensors or actuators have different industrial protocols such as ModBus, BACnet, KNX, etc, the relevant additional controllers – bridges allow for data streams receipt. When there are the OPC XML-DA and OPC UA engines, industrial networks, the platform can work use these protocols as well.
When working with the systems positioned as the IoT, its integration with Smart City engine is easy. The engine can access IoT devices based on support of standard open-source protocols REST API, SOAP, MQTT and SNMP using various software frameworks like AllJoyn and Iotivity providing access to sensor readings via Rest API.
In general the REST API is preferable since it is easy to use and is one of the most common protocols for the exchange of data via WEB. Increasing number of manufacturers of sensors, controllers and software use the protocol in various control and management systems, providing the possibility of access to monitoring functions through Rest API as well. For example, it can be used for control and measurements of light bulbs and street lights.
The SOAP protocol is most common in industrial systems. The use of SNMP protocol is recommended mostly for closed networks e.g. LANs due to the fact that has shortcomings in security.
.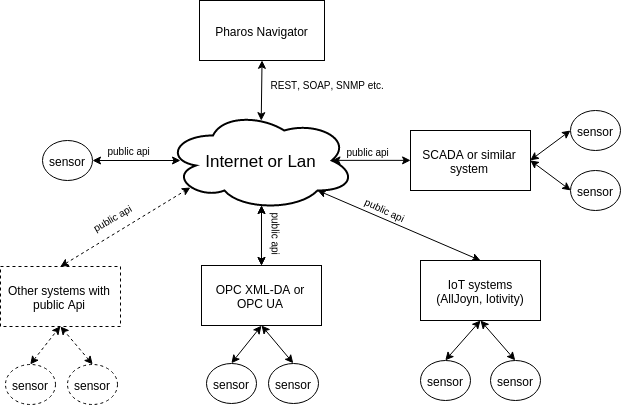 The dotted block in the Picture refers to the systems which are not described here but allow access to monitoring functions via some network protocols. If the protocol is missing in the list it can be promptly implemented by the Smart City Monitor development team upon customer request. Some new standards and relevant technologies under implementation will be supported in the releases of the platform upgrades.
It should be taken into consideration that Smart City Monitor  platform can automatically import the stored sensor data from structured databases or files using its data import procedures as well.
Learn here how PharosN let rapid application development environment for quick prototyping of complex custom IoT solutions that enable high level functions such as monitoring, analytics, and benchmarking, holistic assessment of system sustainability in real time.
Standards and Certification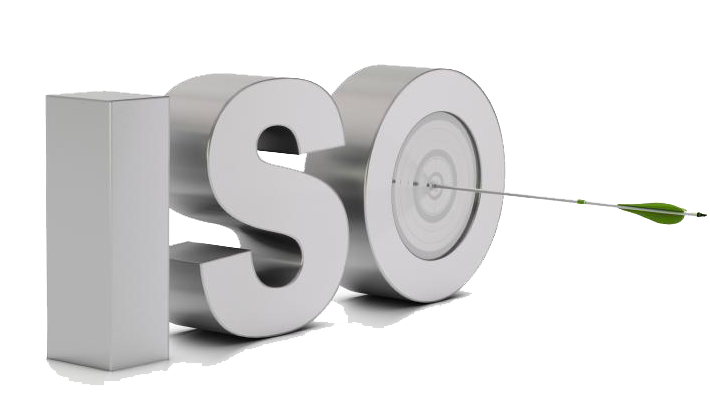 Realizing the compliance in practice
The implementation of the Smart City Monitor (SCM) in a Smart City project begins with installation of the open urban model provided with relevant sample data in spreadsheet files accordingly to the standard requirements. Similar sample models are realised in SCM based on ISO 37120:2014 "Sustainable development of communities — Indicators for city services and quality of life" and other models such as CityKeys, ITU, CEN/CENELEC/ETSI.
The municipality departments and/or other providers of urban data required by the relevant standard can store relevant spreadsheets in shared folders (Dropbox, Google docs, own city server, etc) and update it periodically e.g. once per month, week or day. All the files are automatically accessed by the Smart City Monitor running in the city that collects the new data and immediately calculates all city indicators used by the administration and utility providers as required by the relevant standards, local KPIs and other policies e.g. Sustainable Development Goals, carbon foorprint, etc.
These urban models are scalable and open for further expansion accordingly to changing infrastructure, management requirements and addition of various KPIs.
After local data is available Smart City Monitor can promptly support local governance and city services providing information about city performance in real time. As result, the city administrations as well as all other stakeholders receive powerful analytic tools enabling proactive continuous assessment of compliance with the major international standards for quality management and governance such as ISO, ITU, CEN-CENELEC-ETSI, SDG by UN and others from the very beginning of its path toward Smart City.
Besides spreadsheets as data sources, Smart City Monitor has powerful tools for integration of large number of sensors, IoT, various automated and information systems such as SCADA, ERP, GIS, building automation, transportation, security, safety and environmental monitoring, assets management, etc.
The platform supports realization of the standards' requirements referring to the issues of measurement, performance, indicators, analysis and data collection. The list of such standards for compliance includes as follows:
ISO 37120:2014 Sustainable development of communities — Indicators for city services and quality of life
ISO/TR 37150:2014 Smart community infrastructures — Review of existing activities relevant to metrics
ISO 37151:2015 Smart community infrastructures — Principles and requirements for performance metrics
ISO/TR 37152:2016 Smart community infrastructures — Common framework for development and operation
ISO 18091:2014 Quality management systems — Guidelines for the application of ISO 9001:2008 in local government
ITU-T SG5 FG-SSC: Focus group on smart sustainable cities
IEC/SEG 1: Systems Evaluation Group on Smart Cities (here)
CEN-CENELEC-ETSI SSCC-CG: Smart and Sustainable Cities and Communities Coordination Group
CITYKEYS
ISO 55000 and 55001:2014 Asset management — Overview, principles and terminology
ISO 9000 and ISO 9001 Quality Management
ISO 14000 Environmental management
ISO 19011 Management systems auditing
ISO 26000 Social Responsibilities for Sustainable Development
ISO 31000 Risk management
ISO 50001 Energy management
By introducing the standard as a common template for the initial urban model, Smart City Monitor promotes the implementation of Smart City projects in compliance with the relevant recommendations of the latest standards. At the same time its urban model is open to further step by step upgrading to gradually incorporate complex structure of thousands of different urban objects.
The Smart City Monitor team actively participates and contributes to the development of new standards, e.g. in the Focus Group "Data Processing Management for IoT and Smart Cities and Communities" (FG-DPM IoT and SCC) in International Telecommunication Union, Geneva.
Joint Smart City Certification programme for compliance with ISO 37120
ASIDEES, supported by PharosN team developed Smart City Monitor application, has designed a Joint Smart City Certification programme to assist cities, municipalities, city advisories in preparing the city for compliance with ISO 37120 "Sustainable development of communities — Indicators for city services and quality of life". The certification programme shall support and improve and introduce new styles of city management and work in a data-rich digital transformation working environment.
City stakeholders such as city authorities, municipalities, utility providers and businesses as well as citizens have to deal with increasing complexity of cities. Their cities as Big System of Systems are in accelerated change and complexity. There are diverse criteria of quality of life and understandings of the urban sustainability. The management and monitoring of such systems require access to a massive number of data sources such as sensor networks, IoT, various automated and control and information systems, databases and smart everything. The enabling technology shall support and improve citizens living environment and let administrations to cope with these issues providing a simple holistic and transparent vision of city processes in real time.
The Joint Smart City Certification program is directly linked to the international standardisation processes taking place in European Union and all over the world. The ISO 37120:2014 provides a clear definition of the urban model structure, set of key performance indicators (KPIs) and data sources required for evaluation of the quality of life in urban communities.
The Joint Smart City Certification program is based on the recent success of 'Smart Urbana' project coordinated by ASIDEES and implemented in five European cities. The 'Smart Urbana' demonstrated the effective novel solution for a holistic view of the sustainability status of the city as well as for each its service areas separately accordingly to the international standard ISO37120. The solution supports easy management and monitoring of the whole city and various focused areas of services, calculating its key performance indicators, statuses in real time, and answering the question "How are you, my city?" in any necessary detail.
Certification by ISO 37120 and Sustainable Development Goals
Our company supports novel approach and practical solution toward cities certification that
– Presents city indicators in full compliance with ISO 37120:2014 standard "Sustainable development of communities — Indicators for city services and quality of life" and Sustainable Development Goals (SDG).
– Is open for quick adding any necessary local custom indicators
– Provides real time performance monitoring dashboards online (assess defined by local administration)
– Supports additional tools evidence analytics and benchmarking
– Augments city website presenting local governance achievements
– Certifies continuous compliance with ISO 37120:2014 and SDGs and local urban development goals as Living Standards
City departments and other providers of urban data required by ISO 37120 can store relevant spreadsheets in shared folders (Dropbox, Google docs, own city server, etc) that are automatically accessed by Smart City Monitor software in their city collecting data daily or weekly or monthly. The scalable urban model is open for further expansion and addition of KPIs to represent necessary urban infrastructure.
Unique benefits for administrations and citizens of cities:
Forward-looking city councils and municipalities can obtain now unique novel cutting-edge opportunity for certification of their Cities in compliance with ISO 37120 and its continuous visibility as online services for their communities and internationally. The online certification solution is open to the accommodation of newly developed standards such as ISO 37122, ISO 37123 and others as well as local indicators for smart governance and management.
The offer supports any city and community worldwide including small and middle size cities that are interested in transparency of governance and presentation of evidence of the local governance achievements.
The key difference and benefits for the communities
The common ISO 37120 certification for a city results in the official papers that provide single time assessment and audit of the city performance results. In the time of accelerating urban dynamics and change it verifies the past.
With Smart City Monitor public dashboards presenting actual city performance in real time online the certification is continuous presenting ongoing results in transparent way. Relevant analytics support quick and easy benchmarking and various evidence analytics. The open data is provided and updated by relevant trained municipality departments and city institutions accordingly to the requirements of international standard.  It is immediately transformed into public information services and analytics by Smart City Monitor.
As result, the city certification brings into community the visibility of "Living Standards of Quality of Life" presenting the real time evidence of the local governance achievements beside relevant official papers.
ISO 37120 standard as template for Smart City development
International standard ISO 37120:2014 "Sustainable development of communities — Indicators for city services and quality of life" released in 2014 (now in revision), became the first successful effort of experts to create integrated view for performance analysis of urban areas. The standard provides uniform definitions of what is measured and how it should be done and introduced common basis for reporting, comparison and benchmarking.
The ISO 37120:2014 defines 17 city themes of City Services and Quality of Life as follows:
Economy
Education
Energy
Environment
Finance
Fire and Emergency Response
Governance
Health
Recreation
Safety
Shelter
Solid Waste
Telecommunications and Innovation 
Urban Planning
Transportation
Wastewater
Water and Sanitation
Each theme has "Core" and "Supporting" Indicators as well as Data Sources.  
In all 17 themes there are
46 core indicators which cities shall track and report,
54 supporting indicators which cities should support in tracking and reporting
ISO requires third party verification of data sources and quality for ISO standard certification.
Importance of Standard 
The ISO 37120 standard is important as it
Steers and guides sustainability, effective governance and delivery of services
Allows accessing city's performance of services, infrastructure, institutions (especially outsourced),
Improves city operations
Increases transparency and accountability
Leverages project funding, prioritizing city budgets for assessing quality of life,
Transparency and open data for public/private infrastructure developments and investment attractiveness
Facilitates learning and use
Makes possible various benchmarking options, targets definition and comparative analysis in policy development and planning
Assists in building core knowledge for city decision-making and enabling comparative insight and global benchmarking
Supports new Open Data and new application development
Using the standard as reference model for further developments
Smart City Monitor team used the ISO 37120 standard for the implementation of the sample urban model and its open data set to let the full compliance. The sample data set is presented in spreadsheet files that have simple formats and are easy to understand.
Applied in Smart City Monitor, the sample model and data empower the effective template for quick implementation Smart City projects having immediate compliance with the standard. Being open and customisable, the urban model can be developed further gradually being upgraded to real city infrastructure and diverse linkages to optional data sources.
After the implementation Smart City Monitor engine, the urban model by ISO 37120 runs immediately using sample data. After the data in the spreadsheet files is replaced by the local data the model begin presenting actual city performance accordingly to the standard.  
Then it can be used for experimenting with additional city infrastructure objects, indicators, local data sets, sensors, smart meters, IoT and linkages to various city automated information systems and evaluation of sustainability. 
The Smart City Monitor team is ready to support learning, system prototyping and provide training to city administration employees and utility providers.
OFFICE
 Jaunā Stacijas iela 1, LV-5070,
Lielvārde.
Opening time
Mon. – Fri. : 10:00 – 18:00